About King of Piano
Education and entertainment
King of Piano offers the possibility to practice music,
play with music and to have pianolesson with me, Robert Wells. A Music School, a computer game and community in one spot, and if you train hard you can be appointed King of Piano of and have the chance to perform with me.
Modern Music studies
Traditional Music School is nothing for todays kids and youngsters. Strict and hard piano teachers belongs to the last century. King of Piano is on the students conditions and thus comes as an entertaining computer game, interactive practices and my video lessons. If you live far away from a music school - then King of Piano is a great way to learn music. If you already are getting music lessons you will discover that King of Piano is a great complement for you. It makes a difference.
King of Piano for iPhone/iPad
Of course you must be able to practice and play King of Piano also when you are not in front of your PC.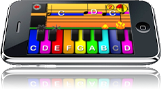 Have you gon an iPhone, iPod or an iPad you can now also enjoy King of Piano on that device. learn more hear.
Statistics displays your progress
Som premium Member you also get access to a useful statistics tool that helps you with your studies. It displays your progress and within which areas you are strong or weak.
King of Piano is best exeperienced with a Midi-keyboard
You can use all parts of King of Piano

through a computer and an internet connection. However, you reach another dimension if you connect a midi keyboard (electrical piano, synth midi-keyboard) to your PC:s usb-port.
Rhapsody Challenge and Rhapsody Tube
King of Piano is more than just practices and Video lessons. It's also a fun game and a video community with a music competion. Rhapsody Tube is King of Pianos own Youtube, Rhapsody Tube. Upload, rate other submissions and see your own get rated. If you get high rates you can be appointed King of Piano and have a chance to perform live on stage with Robert Wells.
Who should join King of Piano?
Of course kids and youngsters with music and artist dreams. In King of Piano you can really learn music from the basics and grow with it, the most important condition to become a real musician or artist. Also older people who wants to regain their music skills will have a lot of fun with and benefit of King of Piano.
Support
If you do not get help from our support don't hesitate to contact us at support@kingofpiano.com.